Microsoft Word and Outlook Training Services
Word Automation instructors are experienced and professional, with exceptional listening skills and a commitment to providing appropriate training and solutions for your business environment. We use original sample documents from your business document workflow during our training process; avoiding generic, "packaged" training that often doesn't translate well to specific office settings.
Learn more about our training courses.

WordPerfect to Word Conversion Services
We provide WordPerfect to Word conversion services for documents, templates, macros and forms. This includes technical services to convert a wide range of complex WordPerfect macros and merge codes to Microsoft Word. Learn more >>

Forms Support for Legal Case Management Systems
Word Automation provides document assembly template and forms support for popular legal case management systems such as ProLaw, PerfectLaw, PracticeMaster, and Amicus Attorney. We can create customized Microsoft Word forms (Letter, Transmittal, Proof of Service, Pleading Forms) for use with legal case management systems that are designed for law office production requirements.

Print Macros for Microsoft Word
Need an efficient method for controlling printing options in an office environment? Word Automation print macros can be tailored to specific requirements. For example, a print button on Word's toolbar:


..can display this dialog window: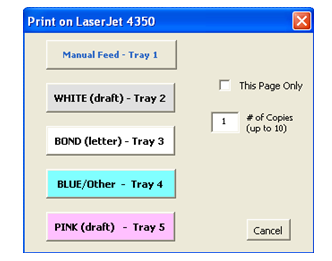 .
Contact us for more information on custom print macros for Microsoft Word.